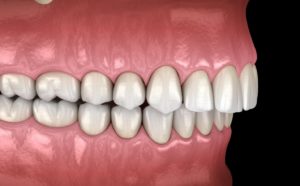 If you suffer from any type of bite problems, such as an overbite or underbite, you might feel self-conscious about your facial aesthetics. You are also at an increased risk of numerous bite-related problems, such as TMJ disorder, damaged teeth, and more. It would certainly be worth your time to talk to your dentist about possible ways to achieve a harmonious bite. You might even be a candidate for Invisalign in Northborough.
How Invisalign Works for Bite Problems
Invisalign gently shifts the teeth by using a series of clear plastic aligners to apply gentle, sustained pressure to them. As you gradually work your way through all of your aligners, the teeth move little by little into their proper positions.
Moving the teeth can be an important part of correcting overbite and similar problems. However, there may also be issues with the alignment of the jaw that need to be addressed. That is why Invisalign often works alongside other orthodontic accessories. For example, you might need to wear elastics (small rubber bands) to train your lower jaw to rest in the proper position.
When you visit your dentist for a consultation, they will analyze both your bite and the positioning of your teeth. Then, they will be able to tell you some details about what you can expect during your treatment journey.
Tips for Successful Treatment
Once you get started with Invisalign, it is important that you strictly comply with treatment instructions. For example, you should:
Be diligent about using your accessories. Neglecting to use elastics or other orthodontic appliances can slow down your treatment.
Care well for your mouth. Sticking to a good oral hygiene routine and talking to your dentist about your concerns are both important. If you experience some soreness in your jaw from your treatment, taking mild painkillers and eating soft foods may help you cope.
Wear your retainer. After you finish with Invisalign, you will have to wear a retainer. This will prevent your teeth and bite from reverting to their previous state.
Can Invisalign Correct All Bite Problems?
Invisalign is usually able to address mild to moderate bite problems. For severe bite problems, however, other treatments might be necessary. For example, you might start off with traditional braces and be able to switch to Invisalign after your bite and teeth have made some progress. Some patients even require surgical intervention to correct a bad bite.
Do you suffer from an overbite or other bite problem? Invisalign could play a key role in correcting the issue and helping you achieve improved oral health and facial aesthetics.
Meet the Practice
The dentists at Northborough Dental Associates are proud to provide a broad range of services, including Invisalign clear aligners, in a welcoming environment. If you are struggling with an overbite, underbite, crossbite, or similar problem, they would be pleased to get you on the road to better oral health. Contact us at 508-466-7091 to learn more about how we may be able to serve you.