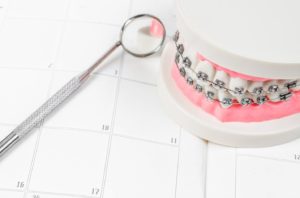 Are you soon going to get braces? If so, you may have some questions about the road in front of you. For example, many patients wonder how long it will take for their teeth to get straightened. Braces treatment time varies from person to person. In this blog post, we discuss some factors that will impact how long it will take for you to achieve a well-aligned smile. We also provide tips to help you avoid unnecessary delays in your treatment.
Average Braces Treatment Time
On average, braces take about 18 – 36 months to straighten teeth. However, some simpler cases may take one year or less, whereas some extra complex cases may require more than 36 months. The only way to get a realistic idea of how long your treatment will take is to visit a qualified dental professional. After they assess the positioning of your teeth, they will be able to make an educated guess as to the length of time it will take for your teeth to become straight.
Factors that Affect Braces Treatment Time
Here are some factors that can have a bearing on orthodontic time in Northborough:
The severity and complexity of your case. Logically, the farther your teeth must move in order to reach their ideal positions, the longer their journey will take. Other complicating factors, such as bite problems, can also impact treatment time.
Your age. The bones of older individuals are slower to remodel than those of younger people. Hence, tooth movements take longer in adult patients than they do in adolescents and children.
Your compliance with treatment. It is important that you follow all treatment instructions from your dentist or orthodontist. Failing to do so can delay your final results.
How to Avoid Unnecessary Delays
Your age and the extent of your dental misalignment are beyond your control. However, you can control how well you adhere to treatment guidelines. Here are some tips to help you avoid unnecessary delays on your road to a straighter smile:
Attend all orthodontic appointments. Skipping or delaying appointments means your braces cannot get adjusted on time, which will lead to slower tooth movements.
Use all accessories as directed. For example, you may have to wear elastics (small rubber bands) to facilitate tooth movements and train your jaw to rest in the proper position.
Keep up with oral care. A diligent oral hygiene routine can reduce the risk of tooth decay and gum disease, which in turn will promote a smooth orthodontic treatment experience.
Braces treatment time is impossible to predict without the help of a trained professional. However long it takes to straighten your teeth, you can be sure that the end result will be worth it!
Meet the Practice
The team of experts at Northborough Dental Associates is proud to offer traditional braces, clear aligners, and many other services that can benefit patients' oral health. If you have questions about what to expect while you are straightening your teeth, we are ready to speak with you. Contact us at 508-571-0358.