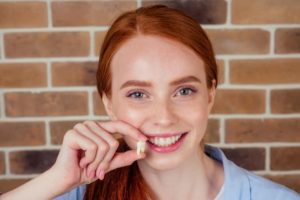 We live in a world that is full of information. Unfortunately, it is also rife with misinformation. For example, there are often untrue rumors swirling around dental treatments. How can you sift through the madness and learn the truth? One easy step you can take is to read this blog post. It discusses the truth behind four myths about tooth extractions.
Myth #1: Tooth Extractions Are Painful
Before the advent of modern dental techniques, getting a tooth removed was extremely uncomfortable. Nowadays, though, the procedure is virtually painless. Your mouth will be completely numbed, so although you may feel some slight pressure, you should not experience any actual pain.
After any local anesthesia wears off, some soreness is to be expected. However, most patients are well-recovered within a week or so.
Myth #2: You Do Not Need to Replace an Extracted Tooth
Some people hesitate to replace an extracted tooth, especially if the empty space is toward the back of their mouth. That is a mistake. Failing to replace a lost tooth could allow the nearby teeth to drift out of place, causing your smile to become misaligned. If a bottom tooth was extracted, the tooth above it may over-erupt or even fall out altogether. Plus, the jawbone at the site of your extraction will begin to deteriorate.
Replacing a lost tooth with a dental implant can prevent such issues and give you a beautiful smile that stands the test of time.
Myth #3: Extraction Is Always the Best Option for Infected Teeth
If a tooth is severely damaged or infected, it can cause significant pain. You might be eager to get the tooth pulled and move on with your life. But did you know that you might be able to end your toothache and keep a complete smile?
Many patients are eligible for root canal therapy, a comfortable procedure that can put a stop to an infection and preserve a damaged tooth. Your dentist will only recommend an extraction if they believe it is absolutely necessary for your oral health.
Myth #4: It Takes a Long Time to Heal from Tooth Extractions
The soft tissue in the human mouth is pretty amazing. It tends to heal very quickly. In fact, most patients find that soreness, bleeding, and swelling after a tooth extraction are gone within a week or so. (If you had a more complex extraction, your symptoms may last for 10 – 14 days.)
The bone at the site of an extraction may take several months to recover. However, this process should have no impact on your daily life.
There are lots of misconceptions out there about tooth extractions. If you have questions or doubts about this procedure, ask a reliable source!
Meet the Practice
Northborough Dental Associates is home to a highly skilled team of oral care experts. If you suspect you need a tooth extraction or another restorative procedure, you can expect us to handle your case with empathy and a keen attention to detail. To learn more about how we may be able to serve you, get in touch with us at 508-571-0358.