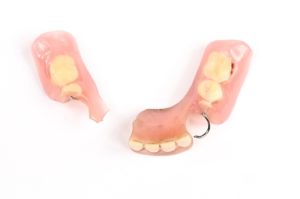 A knocked-out tooth, a severe toothache, and broken teeth all clearly count as dental emergencies. They are painful and frightening. However, you might wonder if a broken denture in Northborough also counts as a dental emergency. After all, dentures are not your real teeth, so they cannot hurt. While a damaged dental prosthetic might not be as urgent as other types of dental emergencies, it is important that you promptly seek professional help. In this article, we will discuss why you should call your dentist as soon as possible after your denture breaks.
The Importance of Dentures
Digestion begins in the mouth. Without dentures to help you chew, there are a number of foods that you will no longer be able to consume because part of your digestive system — your teeth — is not functioning properly. You may miss out on important nutrients.
Also, bear in mind the role that dentures play in pronunciation. Your tongue and teeth work together to enable you to produce a wide range of sounds. Your speech may become less clear if you cannot wear your dentures.
Should You Try to Repair Your Denture on Your Own?
Your local pharmacy might have so-called denture repair kits. However, it is inadvisable to try to repair your denture on your own. It might seem like an economic, time-saving solution, but using such a kit could end up backfiring. For example, attempting a DIY repair could compromise the ability of your emergency dentist in Northborough to carry out a professional, longer-lasting repair. Dentures are delicate prosthetics, and they require expert evaluation and repair when they suffer damage.
How Your Dentist Can Help
Your dentist wants to help you get back to using your dentures as soon as possible. When you visit their office for your emergency appointment, they will carefully examine your denture and determine what will happen next. In some cases, it is possible to repair a denture right in the dental office. However, if the damage to the denture is severe, your dentist may need to send it to a laboratory. In rare cases, it is necessary to replace a broken denture altogether.
Additionally, your denture may offer you some pointers to help you prevent future damage to your denture. They might even discuss the possibility of replacing your denture with implant-supported teeth, which are more secure than their traditional counterparts and are therefore less prone to slipping and falling out of the mouth.
A broken denture counts as a dental emergency! Schedule an appointment with your dentist as soon as possible after your prosthetic suffers damage.
Meet the Practice
Drs. Sandra Crowley-Le, Philip Howells, and Soojin Eriksen work together to provide comprehensive oral healthcare to residents of Northborough and the surrounding communities. They are always ready to assist emergency patients, whether they require denture repair or other treatments. Convenient weekend and evening appointments are available.To learn more about our practice and how we may be able to help you cope with urgent oral health problems, contact us at 508-393-6160.