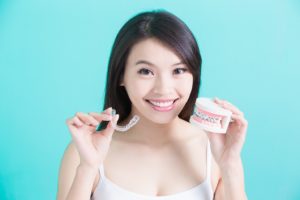 If you had braces in the past, you likely remember the relief and satisfaction you felt when they were removed and you got to see your new smile for the first time. Now, though, have things changed? Some people find that their teeth slowly drift out of place over time, either due to failure to wear a retainer, tooth loss, or other factors. If you believe that you could benefit from a second round of orthodontic treatment, you might wonder if it is possible to get Invisalign after braces. For most patients, the answer to that question is yes.
Getting Invisalign after Braces
During your consultation, your dentist will thoroughly evaluate the current state of your oral health. They will analyze the positioning of your teeth, your bite, and other factors that could affect your candidacy for Invisalign in Northborough. Clear aligners are usually able to correct most common orthodontic problems, including overbite, underbite, crossbite, gapped teeth, crowded teeth, and more. This is true regardless of whether a person had braces in the past.
If it looks like Invisalign is right for you, your dental team will arrange for you to get your custom set of clear aligners. Depending on how far your teeth have drifted out of place, you might wear Invisalign for a much shorter period of time than when you had braces. In fact, some patients' smiles are back where they belong after just a few months. (Of course, there are no guarantees for how long your treatment might last. Your dentist will be able to give you a timeline estimate during your consultation.)
Key Differences between Invisalign and Braces
You probably have clear memories of certain aspects of your time with braces, such as the way the brackets felt in your mouth and the fact that you had to avoid certain foods. Invisalign is different. It offers some significant advantages over traditional orthodontic treatment, including:
Removability. You can remove your aligners for meals and oral hygiene. This means you can eat whatever you like and not worry about having to brush and floss around brackets and wires.
Discretion. Braces are easily noticeable — some teens who wear them have to put up with a bit of teasing. Invisalign, on the other hand, does not call a lot of attention to itself. Onlookers may not even notice when you have your aligners in your mouth.
Comfort. Many patients who get Invisalign after braces note that their clear aligners are much more comfortable than their previous brackets and wires. This is due in part to the patented material that Invisalign is made out of; it is designed to be thin and smooth.
Are you thinking about getting Invisalign? You can expect a much different experience than you had with braces.
Meet the Practice
The team at Northborough Dental Associates is proud to be certified to provide Invisalign clear aligners. Our office features a comfortable environment, convenient appointment teams, and an experienced staff. If you are curious to learn more about Invisalign and how it may be able to realign your smile, contact us at 508-466-7091.