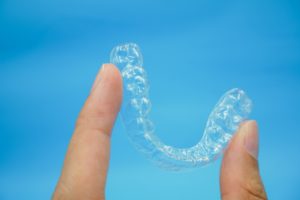 If you are nearing the end of your Invisalign treatment, you are surely looking forward to finally achieving a straight smile that is free of orthodontic problems. As exciting as the conclusion of your treatment is, however, it will not mean that you can relax when it comes to oral care. You will need to put in a little work to maintain your results. Specifically, you will have to wear an Invisalign retainer in Northborough. This blog post discusses the importance of retainer wear and how long you will have to continue using one.
Why Is Wearing a Retainer So Important?
Teeth are not lodged directly in the jawbone. Rather, they are connected to the bone via tiny ligaments, which allow the teeth to have a small capacity for movement. Unfortunately, after Invisalign in Northborough, the teeth can leverage that capacity to begin to drift back into their former arrangement. This occurs because teeth have a sort of "memory," meaning that they will naturally drift back out of place if they are not held in their new, proper positions.
A retainer prevents your teeth from moving. Failure to wear it could result in the undoing of all your hard work with Invisalign.
The Average Retainer Wear Timeline
There are several types of retainers. Some are fixed to the teeth, while others are removable. If yours is removable, you will have to be diligent about wearing it for 20 – 22 hours each day (the same amount of time that you wore your Invisalign aligners) immediately after you finish orthodontic treatment.
After a few months, your dentist might give you the go-ahead to wear your retainer only at night. Eventually, you might be able to wear it just a few nights each week. If it ever begins to feel tight on your teeth, that is a sign you are not wearing it enough.
Although your retainer wear can be reduced over time, you should never stop using it altogether.
Keeping Your Retainer in Good Shape
Depending on the type of retainer you have, yours may last for anywhere from a few years to a decade or longer. To help it stand the test of time, you should:
Keep it clean via a thorough daily hygiene routine.
Store it in its case when you are not wearing it.
Avoid eating while wearing it.
Store it where pets cannot reach it.
Use care when you are taking it in and out of your mouth.
Visit your Invisalign dentist regularly so they can let you know when it is time to replace your retainer.
A retainer can be your lifelong aid for maintaining a well-aligned smile. After you adjust to using it, you can expect it to be a normal, natural part of your routine.
Meet the Practice
The team of professionals at Northborough Dental Associates is proud to offer Invisalign, Invisalign retainers, and a range of other services that can make teeth healthier and more attractive. If you have questions about how you can straighten your teeth and maintain your treatment results, we would be happy to speak with you. Contact us at 508-571-0358.